Plumbing problems can cause serious damage to your home or office. If you notice water leaking from pipes or toilets, don't hesitate to call a professional plumber or "plumber near you" immediately. Commercial plumbing services offer a variety of solutions to address these issues.
Commercial plumbing services include piping systems, heating and cooling systems, and other infrastructure. These professionals provide maintenance and repair services to businesses, schools, hospitals, and government buildings. They also install new plumbing fixtures and equipment.
When it comes to commercial plumbing services, there are several advantages over DIY projects. For example, they can provide better quality service at lower costs. In addition, they can handle multiple jobs simultaneously without compromising quality. And, they have extensive training and years of expertise behind them.
Read on for more information about why commercial plumbing companies are an excellent choice when it comes to addressing plumbing issues in your home or business:
Professional Plumbing Services Offer Better Quality service at a fraction of the cost of hiring a licensed contractor, commercial plumbing services provide high-quality workmanship that lasts. Most experienced plumbers make sure their clients receive a warranty with every project. In fact, some warranties cover many types of construction defects including faulty materials and shoddy installation practices. This means less hassle and potential financial losses for residential homeowners.
In contrast to do-it-yourselfers, commercial plumbers are trained to perform complex tasks such as installing new water lines and sewer lines. Plus, they typically have access to tools like special wrenches and gauges that will help prevent costly repairs down the road.
They Can Handle Multiple Jobs SimultaneouslyCommercial plumbers have the capacity to tackle multiple jobs at once. A company may employ one person who is skilled in performing routine maintenance while another employee specializes in plumbing system replacements. The result is a faster turnaround time because the entire team can focus on completing each job quickly and efficiently.
These individuals usually have several decades worth of experience under their belts. That means they know what works best and which methods yield the most reliable results. When dealing with this type of specialized knowledge, hiring a commercial plumber is clearly preferable to attempt a similar project yourself.
Commercial plumbers use state-of-the-art technology and techniques to diagnose and fix any problem in your plumbing system. They can take care of everything from simple clogs to difficult gas line repairs. With proper planning and attention to detail, these professionals can successfully deal with even complicated situations.
Most commercial plumbers have been working professionally for years. Their skill sets and technical abilities ensure they can handle all sorts of plumbing challenges. However, if something goes wrong during the construction process, they will be able to contact a qualified, local contractor who can complete the task.
Commercial plumbing services also provide 24 hours coverage, unlike most independent contractors who charge by the hour. You won't need to wait days before having your plumbing fixed. Instead, simply book a commercial "plumber near you", or an emergency plumber online or give us a call anytime day or night.
With commercial plumbing services, you get superior customer service at a budget-friendly price. After all, you wouldn't expect to find a plumber that charges per hour but provides only mediocre results. Fortunately, you don't need to settle for second-rate plumbing services.
What kind of problems does a commercial plumber deal with?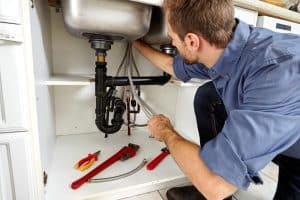 Commercial plumbing fixtures may be used in restaurants, hotels, shopping malls, schools, hospitals, office buildings, factories, warehouses, and residential homes. They perform essential functions like providing potable (drinkable) water for human consumption, waste removal/disposal, and drainage. These systems can include sinks, toilets, urinals, showers, bathtubs, faucets, pipes, drains, pumps, valves, heaters, refrigeration units & many others.
The main parts of the plumbing system include:
Pipes – Used for transporting fluids throughout the building. The vast majority of piping found in any building is made of copper, although other metals such as brass, steel, zinc and lead offer greater strength and resistance to corrosion.
Plastic piping has become common in recent years, especially in new construction and is becoming more popular than traditional metal piping due to its ease of installation and lower costs.
PEX tubing was created specifically for high-pressure applications including those seen in the HVAC industry. It's very flexible, easy to install, less likely to leak, and lasts longer than either CPVC or PCC tubing.
Valves – Controls the flow of fluid within various types of pipe. Valves come in different shapes and sizes depending on their application. Most valves rely on gravity to operate and are typically located at the end of each drainpipe where the top of the pipe connects to the bottom of the sink or tub spout.
Other types of valves must be mechanically operated based on the type of fluid flowing through them. For example, ball valves are opened and closed by rotating a rod connected to the centre of the ball.
Gate valves utilize two flaps that open and close based on a pin inserted into slots. Stop valves block the flow of liquid while control valves regulate the rate of flow. There are also combination valves that allow one opening to function as a gate valve while another opens up to act as a stop valve.
Drains – Determines the location of holes or "pockets" inside the sink or toilet bowl from which wastewater flows out. There are three basic types of drains: Overflow Drains have a hole in the countertop that allows water to spill onto the floor when full.
When the trap below fills with water, this overflow drains back down through the trap into the sump pit or outside via the sewer line. This prevents wastewater from backing up into your home.
A major disadvantage to an overflow trap is that debris tends to clog the drain causing backups. Another problem is that if the sump pump fails, the trapped wastewater can cause serious damage to floors and walls.
Siphon Drains create a vacuum inside the trap forcing the wastewater to travel through the drainpipe. This makes siphon drains extremely effective but they require specialized fittings inside the trap. Gravity Drains do not use a special fitting, instead relying on the force of gravity to pull the wastewater through the drainpipe.
They work well on large fixtures since there isn't much force required to move the water. However, they may not send the wastewater far enough away from the fixture so you'll need multiple pipes running off the main drainpipe.
If you're trying to save money, you might think about installing a combination-type drainage system. These will save you some money because most manufacturers make both an overflow and a siphon trap available.
Sumps – Where wastewater collects before emptying into the storm sewer. A properly sized sump pit should collect enough water to empty out 1-2 times per day. If the pit becomes filled too quickly, the sump pump won't be able to remove all the water and the backup could get worse.
Septic Systems – The sewage disposal system used for septic tanks and leach fields. These systems take the waste from the house and treat it using microbes to break down organic material. Some systems then discharge the treated effluent directly into a nearby creek or lake. Others collect the effluent in holding ponds until it's safe to release into the environment.
It's important to research your options carefully. You want a system that meets local requirements and is appropriate for your needs. If you live in an area prone to flooding, a submersible (below-ground) tank installed at the lowest point of your property may provide better protection against heavy rainfall than a surface tank.
Septic Tanks – Used to separate solid waste from wastewater. Wastewater enters the tank through a manhole in the driveway or basement.
Solid wastes like grass clippings, leaves, etc., drop to the bottom of the tank. As the solids decompose, new plant nutrients become available to the soil.
Toilets – Provide the means for removing human excreta from the body. Toilet seats contain a seat ring, a water seal around the rim of the bowl and a flush mechanism that releases compressed air into the bowl.
All these parts must work together to produce a smooth and sanitary evacuation of feces. There are many variations of toilet design including single-, double-, and multi-bowl. Single-bowl toilets and sit-down baths are commonly found in older homes and public restrooms. Most modern toilets include a bidet attachment for cleaning the genitals.
Water Heaters – Heat water for washing dishes, bathing and other household uses.
Hot Water Pipes – Used to heat water as needed, by passing steam through copper tubes that carry water through the walls of the building.
Gas Piping – carry natural gas from the source gas provider to appliances such as the furnace, stove, washer and dryer, etc.
Plumbing Fixtures – Furniture items that connect pipes to various points in the house. For example, sinks and bathtubs connect to a pipe leading to the municipal sewer. Bathtub faucets have two connections; one connection goes to a valve controlled by a handle located on the wall of the tub and another connection goes to a diverter valve that controls how and where the water exits the spout.
Plumbing Services – Services provided by a plumber. Examples of common plumbing services include the installation of piping, repair of broken pipes, replacement of defective valves and pumps, repair of leaky taps and toilets, and inspection and maintenance of heating and cooling equipment.
If you're looking for a quality commercial plumbing company that's affordable then search for a "Plumber near you" They provide you with exceptional service and will not overcharge you for our work.