Blocked Drains Castle Hill Experts
Are you struggling with persistent blocked drains? Look no further than Apex Plumbing Services for efficient and reliable solutions. Our experienced blocked drains Castle Hill team is dedicated to tackling even the most stubborn blockages, ensuring that your plumbing system remains in top-notch condition. With our specialised techniques and cutting-edge equipment, we guarantee a thorough resolution, leaving you with clear and functional drains. Experience hassle-free plumbing services that prioritise your convenience and peace of mind.
CONTACT OUR DRAIN CLEANING EXPERTS IN CASTLE HILL TODAY!
Swift and Lasting Solutions for Blocked Drains  in Castle Hill
Is your daily routine disrupted by recurring issues with blocked drains in Castle Hill? Trust Apex Plumbing Services to swiftly address these concerns, providing lasting solutions that restore the optimal functionality of your plumbing system. Our comprehensive approach to handling blocked drains ensures that every aspect of the problem is thoroughly addressed, preventing future complications. Say goodbye to the inconvenience of clogged drains and hello to a smoothly running plumbing system, courtesy of our expert team.
Dealing with Stubborn Blockages
At Apex Plumbing Services, we understand the frustration that comes with stubborn blockages. Our dedicated team employs advanced techniques and state-of-the-art equipment to identify the root cause of the issue. By thoroughly assessing the situation, we tailor our approach to ensure a complete and long-lasting resolution, allowing you to resume your daily activities without any disruptions.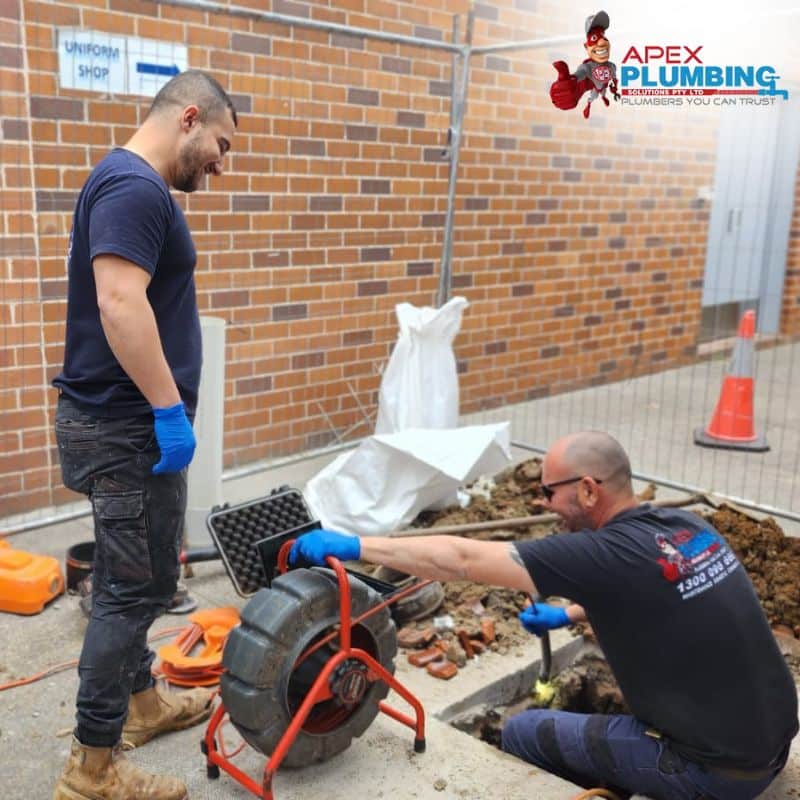 Efficiency and Reliability at Every Step
When it comes to handling blocked drains in Castle Hill, Apex Plumbing Services stands out for its commitment to efficiency and reliability. We prioritize prompt and precise solutions, ensuring that your daily routine is minimally disrupted. With our proven track record of delivering exceptional results, you can rely on us to efficiently resolve your blocked drain issues, allowing you to enjoy uninterrupted usage of your plumbing system without any worries.
Furthermore, we understand that addressing smelly drains is crucial to ensuring a hygienic and pleasant environment.  At Apex Plumbing Services, we conduct a thorough assessment to identify the underlying causes of smelly drains, implementing effective strategies. By tackling these underlying issues, we ensure that your plumbing system remains not only functional but also odor-free.
Reach out to Apex Plumbing Services today for comprehensive and dependable solutions for your blocked drains. We also serve Bondi, Penrith, Blacktown, and other areas. So, let us handle the complexities while you enjoy the benefits of a seamlessly functioning plumbing system.
Frequently Asked Questions
 Apex Plumbing Services provides efficient solutions that comply with plumbing code standards and regulations.
Yes, blocked drains can be a recurring problem in Castle Hill due to various factors such as aging infrastructure and tree root intrusions.
Yes, we provide 24/7 emergency services to promptly address any blocked drain emergencies in Castle Hill.
Apex Plumbing Services prioritises customer satisfaction by delivering thorough solutions that meet plumbing code standards and regulations, ensuring peace of mind for clients.
Yes, tree root intrusions are a common cause of blocked drains, requiring professional attention from companies like Apex Plumbing Services.
Regular maintenance can help prevent the occurrence of blocked drains.
Yes, Apex Plumbing Services provides eco-friendly options that align with plumbing code standards and regulations, ensuring environmentally conscious solutions.